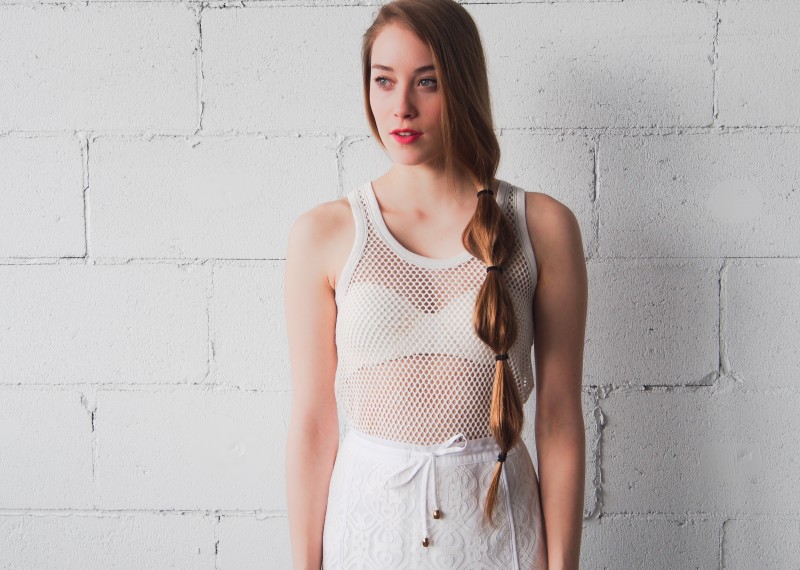 While Shooting Valérie for Dentelle+Fleurs Spring Lookbook, I had the idea of styling her hair differently for every picture. I saw/read lots of reaction regarding her fabulous locks in the project, so I thought I'll teach you how I did her hair so you can recreate every style at home! Here is the first look: the Jasmine ponytail (yep, like Jasmine in the Aladdin movie), for long hair only:
Step 1: Sweep all hair on the side. Let them fall naturally. Secure in a ponytail.
Step 2:  Divide the pony in more than 3 sections to create the "jasmine look".
Step 3: Add volume in every section by pulling the hair a little.
Tadam! You know look like Jasmine, without the magic carpet (don't we all wish we had one?)
Lors du shooting du Lookbook printanier de Dentelle+Fleurs, j'ai eu l'idée de coiffer les cheveux de Valérie différemment pour chaque photo. Lorsque celui-ci est sorti, j'ai lu/entendu énormément de commentaires sur la perfection de ses cheveux et sur les différentes façons de les présenter. J'ai donc décidé de vous enseigner comment reproduire les différents styles présentés, afin que vous puissiez les reproduire à la maison. Voici donc la première idée coiffure: la queue de cheval à la Jasmine (oui, Jasmine comme dans le film Aladdin), pour cheveux longs seulement:
Étape 1: Ramenez tous les cheveux d'un seul côté du visage. Les laisser tomber naturellement. Fixer le tout avec un élastique.
Étape 2: Séparez la queue de cheval en plusieurs sections, afin de créer l'effet "Jasmine". Ajoutez des élastiques de même couleur ou transparents.
Étape 3: Pour créer un effet de volume, un peu "pouf", tirer quelque peu les cheveux entre les élastiques.
Tadam! Vous avez maintenant la tête parfaite de la princesse Jasmine, mais sans le tapis volant (qu'on souhaiterait tous avoir, d'ailleurs).
Model: Valérie Collette
Read More