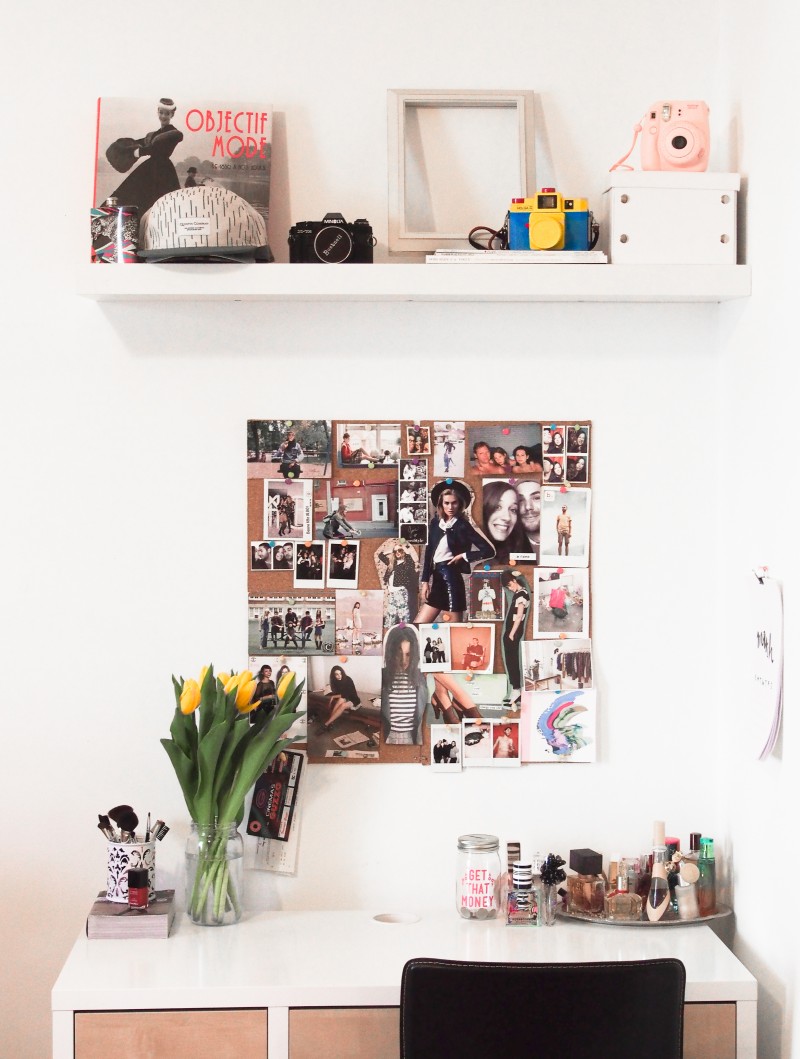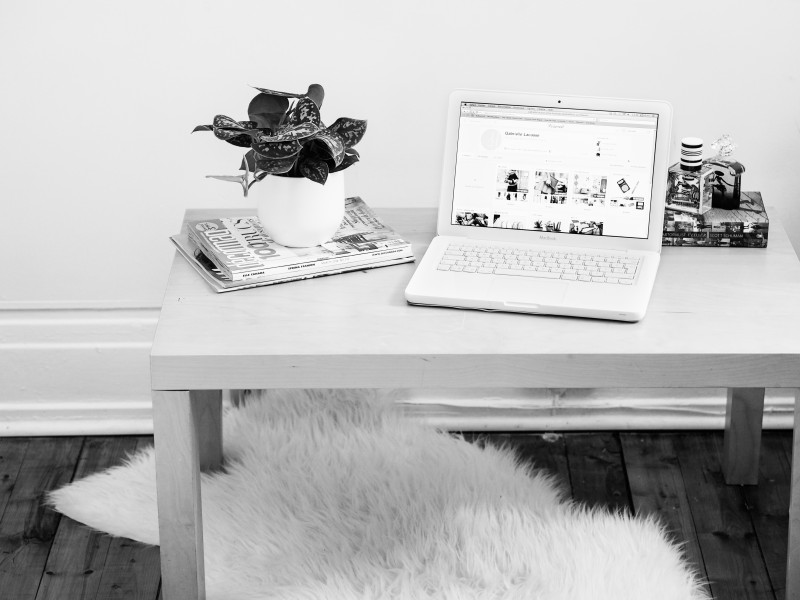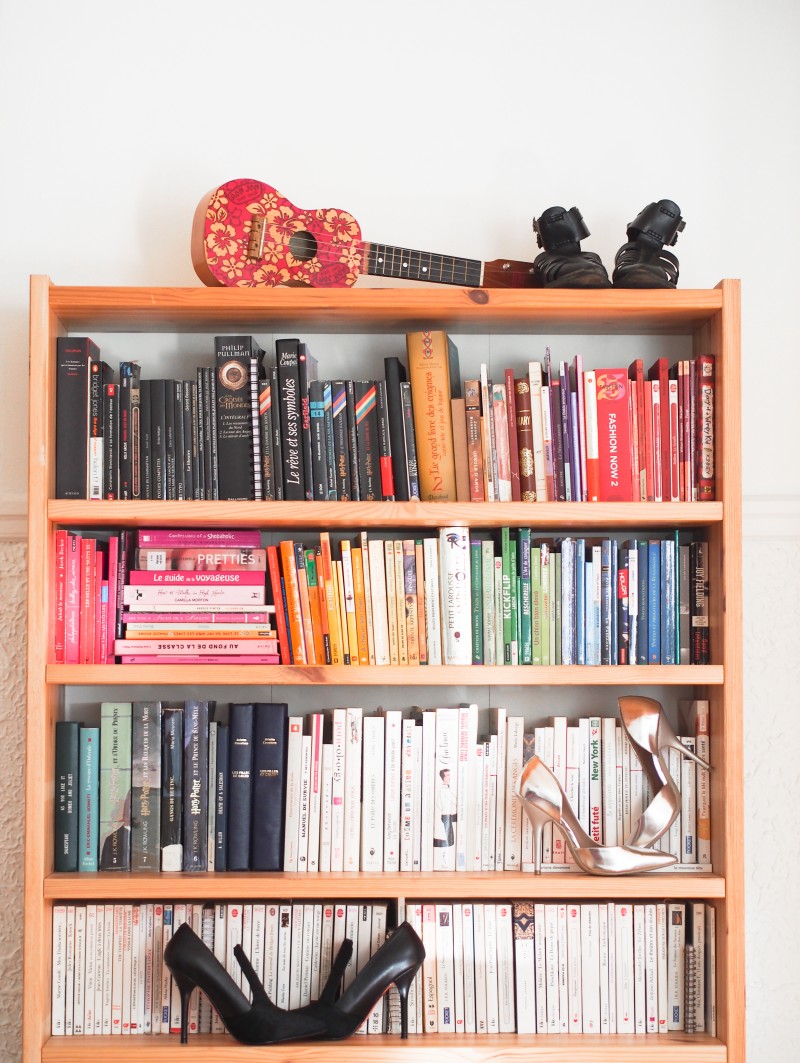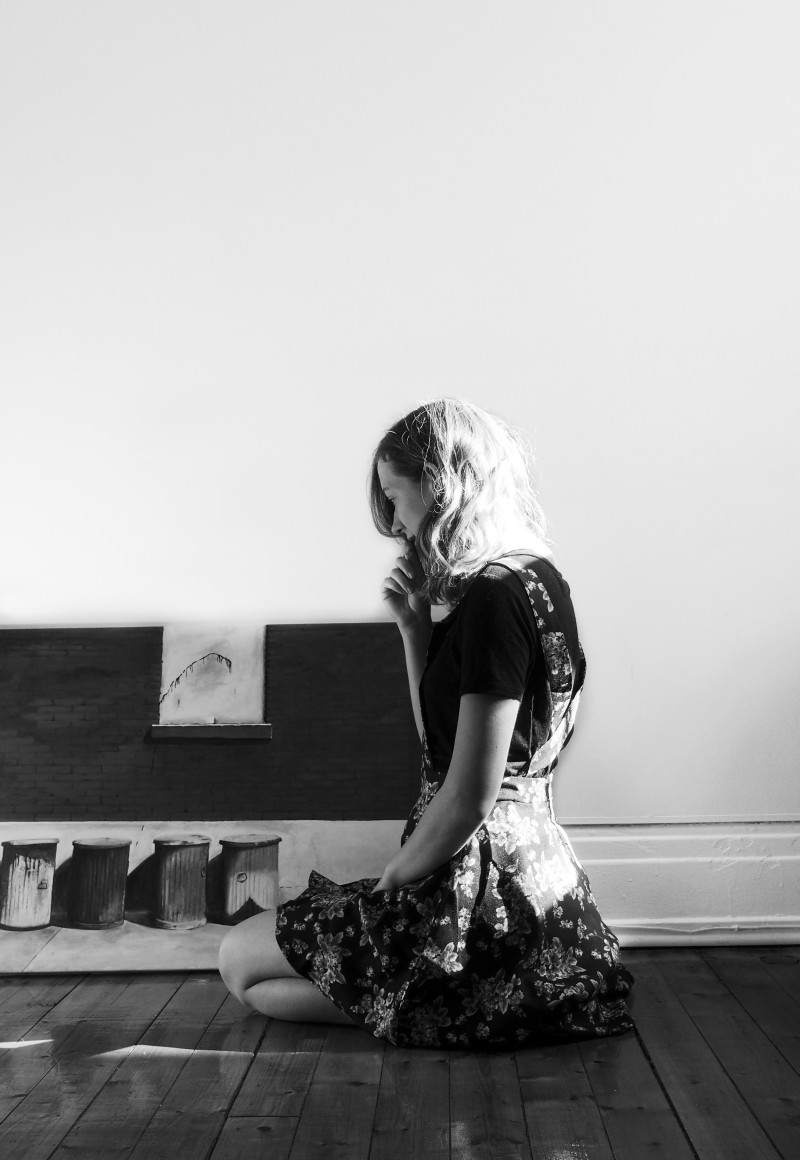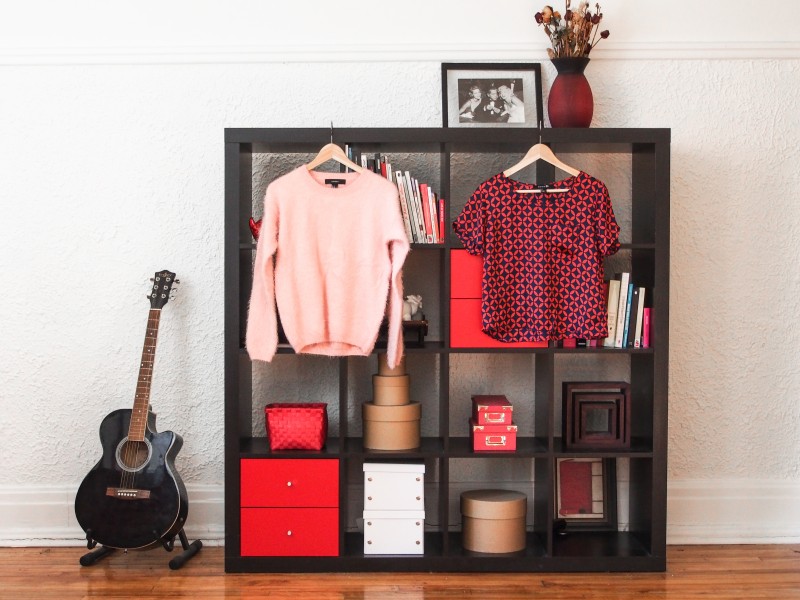 Welcome to my home! I teamed up with forever21 to show you around my house (well, corners that were worth the look) and to tell you a little bit more about my deco brain. As you can see, I am very minimalist, yet I love colours and fresh flowers. Discover a little bit more about my apartment, photo by photo:
1. This is my work place. Every season, I change my mood board to let it inspire me while I work. I also pin photos from my friends, boyfriend and some freshly taken Polaroids. As you can see, I have quite a collection of perfume on the desk. Before, it used to fit all in the silver plate, but hey, things change.
2. I am addicted to: magazines, Pinterest, my laptop and plants. I also try not to always work at the same place, because it may get boring. I travel with my computer from room to room, to change my mind and my energy.
3. When I moved, I asked my brother's girlfriend (now fiancé iiii) to classify my books by colours and she looked at me like: ookk? But she did it and I love the result. Every person that now comes in my apartment is like: is your bookshelf sorted by colours? So good. Also, when I used to live alone, my bookshelves where filled with shoes, but now that I live with a man, I've stopped doing it. I added some heels for the picture only, to remind me of those days.
4. This is a picture that I took in New York, very fast while I was in a car. My grand-father liked it so much that he made a recreation of it as a painting and I am now wondering when I should hang it. Where? (wearing F21 on the picture)
5. I decided to make a "coveteur" of myself and hang some pieces from Forever21 on my other bookshelf. For those who are wondering, I am the one who plays guitar in the house! I use to have a band and all, believe it or not.
How do you feel about my minimalist deco? How do you organize your own home?
Bienvenue dans ma petite maison! Je me suis affiliée à Forever 21 afin de vous présenter mon appartement (enfin, les coins qui méritaient d'être pris en photo) et de vous donner quelques précisions sur ma conception de la décoration. Comme vous pouvez déjà le constater, je suis plutôt du type minimaliste, mais j'adore aussi ajouter des pop de couleur et des fleurs un peu partout. Découvrez-en un peu plus sur chaque photo en lisant les descriptions ci-dessous:
1. Voici l'endroit où je travaille. À chaque saison, je change mon moodboard afin que celui-ci puisse m'inspirer lorsque je crée du contenu. J'y ajoute aussi des photos de mes amis, de mon copain et des Polaroids fraichement pris des dernières soirées. Comme vous pouvez le voir, je détiens une grande collection de parfum. Au départ, ils pouvaient tous se contenir sur l'assiette de métal, mais bon, les temps ont changé.
2. Je suis accro aux magazines, à mon laptop, à Pinterest et aux plantes. Je m'arrange aussi pour me promener de pièce en pièce lorsque je travaille, afin de changer mon énergie et mes pensées.
3. Lorsque j'ai déménagé, j'ai demandé à la copine de mon frère (maintenant fiancé iii) de classer mes livres par ordre de couleurs. Bien évidemment, sa réponse fut quelque chose comme "euh ookkk…" mais elle l'a tout de même fait et j'adore le résultat. Lorsque les amis viennent à la maison, ils constatent tous la même chose: c'est moi où ta bibliothèque est classée par ordre de couleur? C'est si drôle à voir. Aussi, lorsque je vivais seule, mes souliers faisaient partie intégrante de mes tablettes, mais maintenant que je vis avec un homme, l'idée n'est plus acceptable. J'ai donc ajouté quelques talons en souvenir de ces temps de décoration plus féminine.
4. J'ai pris cette photo à New York, sur le vif, par la fenêtre de l'auto. Mon grand-père l'a tant aimé qu'il l'a fait recréer en peinture et je me demande maintenant où l'accrocher. OÙ? (je porte du F21 sur la photo)
5. J'ai fait un "coveteur" de moi-même et j'ai accroché quelques pièces du Forever 21 sur ma bibliothèque de salon. Pour ceux qui se posent la question, oui c'est moi qui joue de la guitare. J'avais même un band lorsque j'étais plus jeune, croyez-le ou non.
Alors, que pensez-vous de mon décor? Comment organisez-vous votre propre maison?
Read More